ACE Surpasses One Million All-Electric, Zero-Emission Miles at San Diego International Airport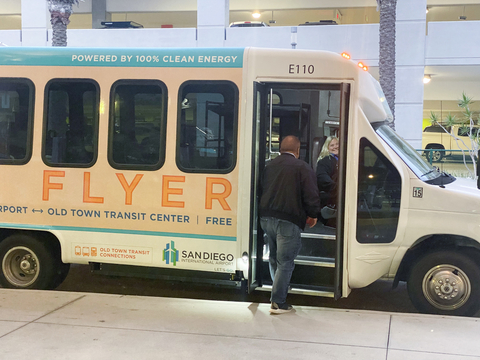 ACE deployed 24 vehicles to ACE's San Diego Airport fleet in 2020, creating the largest electric airport shuttle fleet in the U.S.
The fleet has mitigated over 1,050 tons of carbon emissions from the atmosphere
Deployment of these vehicles was partially funded by CARB's HVIP program
LOVELAND, Colo.–(BUSINESS WIRE)–Lightning eMotors (NYSE: ZEV), a leading provider of zero-emission, medium-duty commercial vehicles and electric vehicle technology for fleets, announced today that Lightning customer ACE Parking's San Diego Airport fleet of ZEV4 and ZEV5 shuttle buses have surpassed one million all-electric, zero-emission miles.
"ACE Parking's San Diego Airport fleet is a success story not just for Lightning, but for fleet vehicle electrification, and it's been an honor to be ACE's chosen partner in this important deployment," said Lightning CRO Kash Sethi. "It's always such a point of pride—and a testament to our shared commitment to providing clean, safe and sustainable transportation—to see one of our fleets pass the one-million-mile mark. We're looking forward to many more miles with ACE."
Lightning delivered 16 Class 4 ZEV4 and 8 Class 5 ZEV5 electric shuttle buses to ACE Parking in 2020. Since deployment, the fleet has transported more than 1.5 million passengers over one million miles and mitigated over 1,050 tons of CO2 emissions from the atmosphere. The fleet is supported by Lightning Insights™, Lightning's leading EV-specific telematics service that monitors vehicle location, efficiency, charge status and more in real time. The ZEV4 and ZEV5 zero-emission shuttle buses have averaged 41.1 and 34.4 MPGe respectively, over 5x more efficient than comparable gasoline shuttles, such as the Ford E-450 with 7.3 mpg and the Ford F-550 with 5.9 mpg.
"Lightning has been a good partner for us, providing strong service and support throughout the deployment despite ongoing gen1-technology hurdles," said Steve Burton, president of ACE Parking. "We're very happy with the environmental benefits of our Lightning fleet, while our drivers and passengers enjoy the quiet, refined performance only an EV can deliver."
Lightning is now delivering the third generation of their ZEV4 shuttle bus with additional benefits, such as the batteries fully contained between the frame rails, redundant parking brake, push button shifting and more.
The ACE Parking vehicles participated in the California Air Resources Board's (CARB) Hybrid and Zero Emission Truck and Bus Voucher Incentive Project (HVIP). HVIP provides point-of-sale discounts to organizations and companies for the purchase of low- or zero-emission commercial fleet vehicles. To date, program funding has helped more than 11,000 clean vehicles begin operation across the state, speeding up California's electric transition, cutting emissions and improving air quality.
Original article found on Business Wire.