ACE PARKING IS PROUD TO ANNOUNCE THE AWARD OF 34 AIRPORTS IN SPAIN

ACE Parking Is Proud To Announce AENA's Award Of The Parking Operations Of 34 Airports In Spain
San Diego, US / Madrid, Spain – Starting March 1, 2022, ACE Parking, in partnership with Spanish companies EYSA & SETEX, began managing the parking facilities at 34 major and mid-major airports in Spain. This includes Madrid and Barcelona Airports.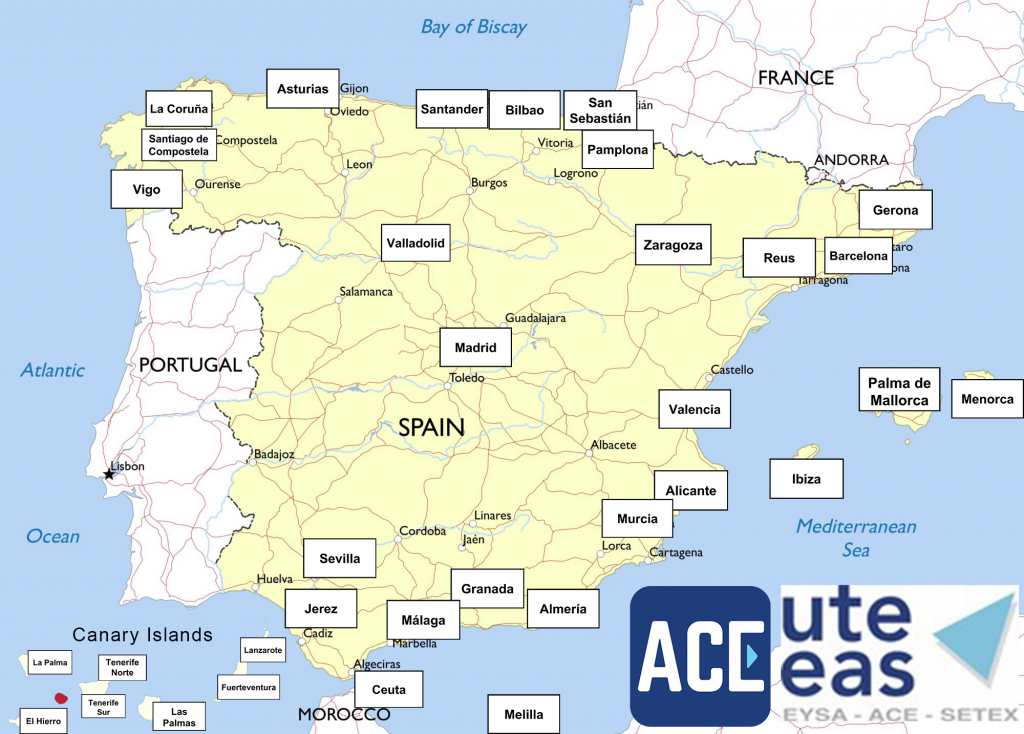 Scope of the Project
90,000,000 million enplanements annually
100,000,000 annual parking transactions
150,000 parking spaces
Exclusive management of every parking facility at each airport
Services include management of Self-Park, Valet, VIP Programs, Facility Maintenance and PARCS equipment Maintenance
Multiple Airport Shuttle Operations
Customer Service program management & reporting
On-line Reservation Platform coordination and management
Electric Vehicle charging services
Implementation of Centralized Control Center, Accounting/Financial/Operational Metrics on Real-time Dashboards
Vision – Expedited Project Opportunity Development
The relatively short-notice project opportunity (34 airport scope due in less than 60 days) came to Steve Burton, ACE President, and Shane Henning, ACE General Manager at Phoenix Sky Harbor International Airport through a European Wayfinding provider contact who reached out about the RFP to gage ACE's interest
Steve immediately saw the potential for ACE and within 24 hours of first hearing about the opportunity was in email contact with EYSA and Setex
Zoom meetings were expedited by Steve and ACE's partners within 24 hours to discuss the Airport RFP opportunity
In less than 3 days, ACE was on board with the opportunity and jumping fully into the deep end of learning how to respond to the RFP and to do business in Spain (ACE's Ownership & CEO authorized Steve to pursue the opportunity within 10 minutes of his business pitch)
Extensive RFP Work Process Requirements
ACE jumped in with both feet in the first week of June 2021
We committed to extensive response tasks and our partners provided initial instructions for how we needed to officially respond to the RFP's Technical Requirements
ACE had to create individual technical documents to each minimum requirement within the RFP (Similar to Major Airport RFPs in the US)
The more challenging aspects started with the authentication process which was further complicated during COVID – We had to create each technical document, confirm compliance, and have them notarized.
Each technical document and notary had to be translated into Spanish.
The documents then had to be sent to the State of California to be Apostle (Requirement of RFP and AENA).
This Apostle process could not be done in person – so we had to ship the documents to Los Angeles or Sacramento and wait for the process to be completed (taking weeks and many follow up messages to accomplish)
The most important documentation required the Spanish Consulate was the certification of ACE as a good standing company in California and the authorization of ACE to do business in Spain. Because of COVID, it was also impossible to get an appointment and very difficult to reach a person at the Consulate. ACE's prompt process initiation proved to be essential in our obtaining these confirmations.
After dozens of phone calls and email messages, Steve was able to get in contact with the Spanish Consulate days prior to the due date of the RFP (July 30, 2021) and was able to get the documents executed and sent back to ACE in time for the RFP submission (failure would have resulted in our proposal response be non-admissible)
Without the help of Ashby Russell, ACE Marketing Specialist, multiple agencies that helped to Sheppard the process, and Steve's motivation to keep the RFP process moving, our Team's Effort along with our partners EYSA and Setex would have been for naught
Hard-Won Success
ACE is extremely pleased with the outcome of this RFP. We are looking forward to growing our footprint in the European Union and beyond. We are ready to show the world what ACE can do and look forward to continuing our growth in the United States and now in Europe.
"This herculean effort by ACE and my team, could not have happened at many US based parking companies. The ones that could have qualified, would have been stuck in committee, legal, or the Board level trying to even look at and respond to this RFP opportunity. Not, so with ACE! As the largest privately owned, 72-year third generation Parking Company in the country, ACE was nimble enough to mobilize our organization within hours and successfully responded to a 34 Airport RFP in less than 60 days – and WON!!!!"
-Steve Burton, President